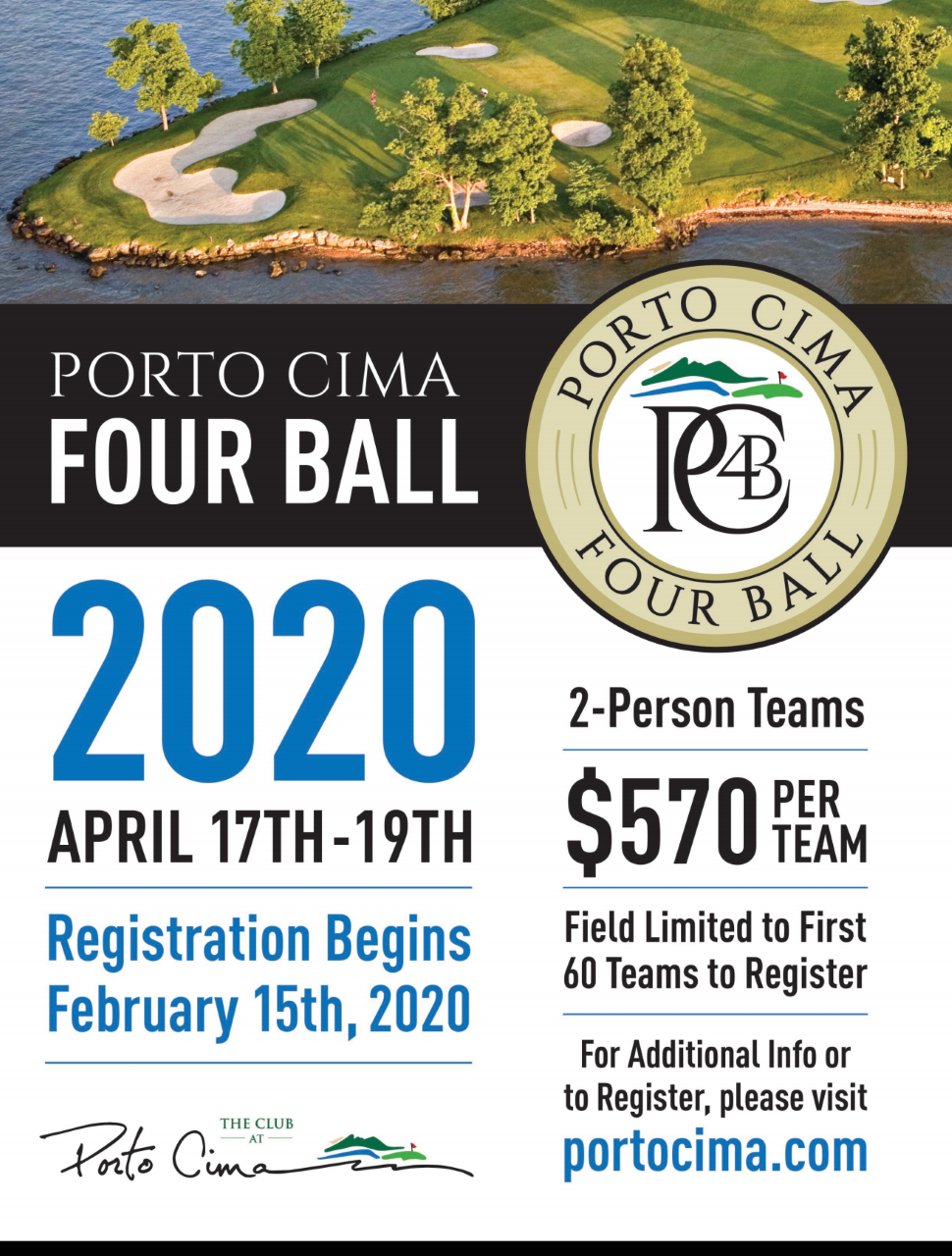 Optional Practice Round:
Friday, April 17, 2020
Practice Rounds Available Beginning at 11:30am
$60 per player (includes cart)
Range open at 10:30am for tournament participants
First Day of Competition:
Saturday, April 18, 2020
6:45AM - Driving Range Opens
7:00am – 9:30am Breakfast Buffet in #19 Hole
7:45am - Tee Times off #1 & #10
First Round Results & Sunday Tee Times will be posted at 5:30pm
Lunch Buffet Following Round
Sunday, April 19th, 2020
Second Day of Competition:
6:45am – Driving Range Open
7:00am – 9:30am Breakfast Buffet in #19 Hole
7:45am - Tee Times off #1 & #10
12:00pm - 2:30pm Tournament Results, Payouts & Lunch Buffet
Tournament Information
FORMAT:
36-hole - 4-Ball Stoke Play to be played from Gold Tees.
Men 50-59 play from Blue Tees. Men 60+ play White Tees.
2019 USGA Rules of Golf Govern All Play.
2-Person Teams
REGISTRATION:
Tournament registration opens February 15th at 9:00am CST through the Porto Cima website. Participants must have a GHIN handicap index to register. Incomplete registrations will not be accepted. Field is limited to the first 60 teams.
ENTRY FEE:
$570 per team includes Two Tournament Rounds, Golf Cart, Range Balls, Tee Gift, Breakfasts Buffet Saturday and Sunday, and Champions' Dinner Saturday Evening. Participants are encouraged to make payment by March 15th via credit card or check. Checks must be made out to The Club at Porto Cima.
FLIGHTS:
Teams will be broken into four flights. Flights will be determined by combined team index.
PRIZES:
Gift certificate payouts will be awarded to the top three gross & top three net teams in four flights.
CANCELLATION & REFUND POLICY:
In the event a player must cancel from the event after their card has been charged, a cancellation fee of $25 will be deducted from the total amount as a credit card administration fee. Players that cancel with less than one week to the event will not be granted a refund of any amount.
DRESS CODE:
Proper attire must be worn at all times on the golf courses, as well as in any golf practice area (driving range, putting green, short game practice area).
1. Shorts are permissible attire provided they are Bermuda length or walking shorts. Jogging shorts, cut-offs, cargo shorts, denim shorts, and tennis shorts are not acceptable attire.
2. Blue jeans are not acceptable attire.
3. Men must wear collared shirts or they may wear designer collarless golf shirts, but tee shirts are not acceptable. Short sleeve and long sleeve mock turtleneck shirts are permissible.
4. Hats must be worn in the proper bill forward manner. The Golf Shop staff shall have the right to deny play on the course or practice areas to anyone not dressed accordingly.